PhD Student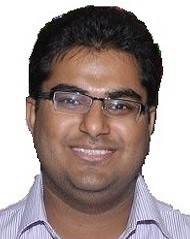 Role in Project: Retinal Imaging Biomarkers for prediction of morbidity and mortality in Type 2 Diabetes: Beyond Diabetic Retinopathy Screening.
Publications:
Original Research: Implementation of The Policy Cycle to merge Tuberculosis (TB) and Childhood malnutrition policies in India; Published by International Journal of Preventive, Curative & Community  Medicine. [Vol 1. (2), 2015].
Letter to the Editor: Changes in Healthcare System of India have effects on Management of HIV/AID's epidemic; Published by Indian Journal of Public Health [Vol 60, Issue 3; DOI: 10.4103/0019-557X.184578].
Abstract Presentations:
Improvement in health-related quality of life after Roux-en-Y Gastric Bypass surgery among Indian population; Seoul International Conference for Endocrinology and Metabolism (SICEM), April 2016.
Motivation for smoking cessation for improvement in cardiac rehabilitation among the patients- A Systematic Review; Indo-Global Healthcare Summit, October 2015.
email: a.nar@dundee.ac.uk
Orcid account:  https://orcid.org/0000-0003-1378-2978